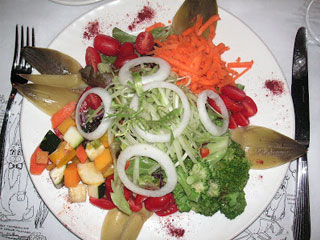 This summer I was lucky enough to travel to New Orleans, Louisiana for a business conference. I was really excited to go since I had never been there and I love to see new places! But… this would be the first time I would travel since I began eating only raw foods and to tell you the truth I was really nervous. How would people react to my special requests? Would I feel like I was missing out on all the regional specialty foods? What would I do if there was no raw food around to choose from? I was very committed to doing my best to remain raw during my trip and I was convinced that if I planned ahead I could do it. I borrowed a little phrase from the scriptures that became my mantra for the month prior to the trip, "If ye are prepared, ye shall not fear!" So I checked with all the ladies I would be rooming with who made the hotel reservations to find out if we would have a fridge or kitchen area – Hurray, we would! Our first day there we went grocery shopping and I was able to stock up on plenty of fresh foods I love for our week's stay. Our hotel also had a big complimentary breakfast buffet that had mounds of fresh fruit every day! I let the ladies know that I didn't want to make the trip difficult for them, but I would be eating only raw foods. They were absolutely supportive and sweet the entire trip! We had some good discussions about what a raw food diet was and why I was doing it. I think they just thought I was crazy – but that's O.K., I don't mind being unique! I prepared a huge gallon sized zip-loc bag of raw trail mix with almonds, cashews, macademias, pecans, pumpkin seeds, sunflower seeds, raisins and coconut. I kept this in my suitcase in the hotel and used it to refill a small sandwich-sized zip-loc bag I carried with me everywhere that became my LIFESAVER!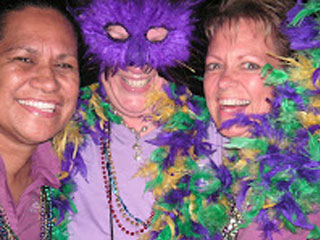 I also took on the trip some delicious dehydrated chocolate coconut macaroons I ate when everyone else was having treats and some dehydrated Sunflower Bread to make veggie sandwiches with. I stocked up on Lara Bars from the health food store that are raw pre-packaged bars made from just nuts, dates and maybe fruits or raw chocolate. Great to keep in your purse for emergency hunger pains! But, lest you think all I did was hide in the hotel room huddled around our little mini-fridge missing all the fun of New Orleans – think again!! We all had a ball and I didn't miss a minute of it! The gorgeous salad pictured at the top of this post was custom made for me by the chef at K-Paul's Louisiana Kitchen. A huge group of us went there for dinner. It's a really nice restaurant, but there wasn't anything raw on the menu, just a tiny side salad 🙁 After I talked to our waiter about what they might have that I could eat, he consulted with the chef and brought out this masterpiece. What a treat to have a personal chef! (I'm sure it will never happen again, so I fully enjoyed it!) Many of the restaurants we ate at had wonderful salads with regional cajun flair. What fun to explore these new tastes and I always left feeling energized and full of excitement to go explore some more.  We had Mardi Gras parties, cajun dancing, sightseeing, shopping, trolley riding, workshops, banquets, meetings, late-night movies and talking, concerts and tons of fun and I felt fantastic!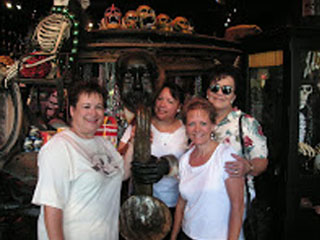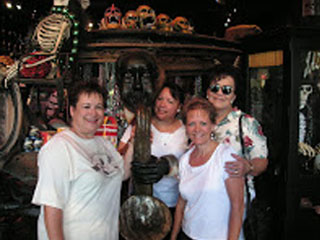 In the airport on the way home I found several restaurants and booths that had fresh fruits and salads which kept me feeling light and fresh even while travelling all day and night. So – I conquered my fear of travelling raw and I'm ready to go again any time I get a chance!
Other raw travelling tips you might find helpful:
 For car trips bring a big cooler that you can stock up at grocery stores along the way and keep things cold and fresh. You can tuck your blender in a corner of the trunk and make fresh smoothies, soups, sauces to go over chopped veggies, salad dressings and dips for flax crackers that you can dehydrate and bring along.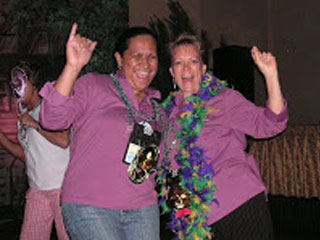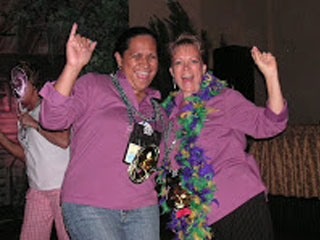 Victoria Boutenko said their family makes home-made dry soup mix by dehydrating chopped celery, mushrooms, garlic, onion, grated carrots, tomato, cucumber, cilantro, parsley, and kale. Place in zip-loc bags which are light and small for packing on overseas trips. To reconstitute add warm water and maybe a few drops of oil and Braggs Liquid Aminos or sea salt. Sounds good to try and could make a great addition to a 72-hour emergency kit, too!
Ani Phyo says that when she travels and is staying with friends or relatives she offers to prepare some of the meals for everyone. This allows her to eat things she loves and is a great favor for her hosts. She says almost everyone she visits has a blender and food processor, so she's all set!
It's also a great idea if you are bringing foods along to choose high water content foods like cucumbers, peaches and luscious things like that. They keep you hydrated and that is important during travel to keep you feeling healthy, happy and prevent jet-lag from hitting you too hard.
And one last thought that sounded so smart when I heard it – if you end up eating nothing for the hours you are in the airport and flying to your destination, that's O.K! Fasting is good for you on occasion, will give your body a rest from the efforts of digestion and leave you feeling light and clear-headed instead of sluggish and tired. No worries!
So everyone go dig out your suitcase and let's go on an adventure!