Our Raw Friends Feast this month was small but yummy! I feel that if I take away one new dish that I love, it is a success! Here are some of the great raw recipes we feasted on: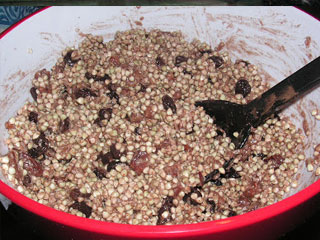 This is my new favorite recipe – Buckwheat Breakfast Porridge!! I just can't get enough of this hearty comfort food, so sometimes I eat it for lunch or dinner. It reminds me of eating sweetened cinnamon-raisin oatmeal, which I love. Let me tell you what I learned about buckwheat – it is fantastic! *It's low on the glycemic index so it doesn't cause a spike in your blood sugar. *It's a seed not a grain. *It has a high level of anti-oxidants to protect cells from damage, fight stress and is great for your circulatory system. *It has more protein than grains like wheat, rice, milet and corn. *It has essential amino acids that your body can't produce. *It is gluten free (a lot of people have wheat and gluten allergies). *It is an unsurpassed cholesterol lowering food according to studies. *It will reduce and regulate blood sugar levels which helps prevent diabetes and obesity. *Its higher in the minerals zinc, copper and manganese than grains are. *The fat content is mono-unsaturated to lower cholesterol and protect your heart. *It has a lot of soluble fiber for heart health, lowering cholesterol and preventing colon cancer. *Buy raw buckwheat groats in bulk at the health food store. Soak 2+ hours, rinse well and eat or refrigerate Buckwheat Breakfast Porridge By Skya at the Raw Aloha Feast Serves 3-4 2 C Buckwheat groats, soaked 2 hours or overnight and rinsed well after 1/2 C raisins 1/2 C pecans, broken into smaller pieces 3 TB coconut butter 1/8 tsp sea salt 1/4 C shredded raw coconut 4 TB Agave, or to taste 1TB Cinnamon, or to taste Combine all ingredients in a medium bowl. Serve and enjoy some yummy breakfast comfort food!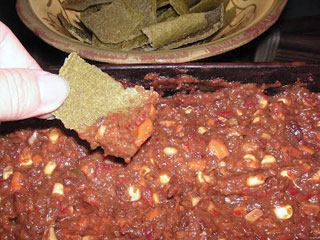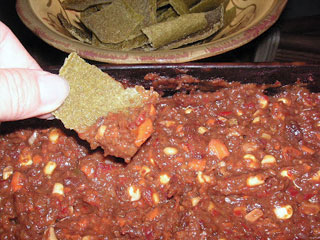 We ate The Best Raw Chili, warm out of the dehydrator, as a dip for these wonderful Cilantro-Corn Chips. Find the chili recipe in "Some Of My Favorite Recipes" post dated July 5, 2008 on this blog. Cilantro-Corn Chips By Robyn at Greensmoothiegirl.com In her e-book "Sprouted, Crunchy Snack Recipes" 4 C corn (fresh or frozen) 1/4 C olive oil 1/2 C water 1 large Anaheim pepper 1 TB agave 1 Bunch cilantro 1/2 tsp sea salt 1/2 C ground flax seed Mix all except flax in BlendTec blender until smooth, then add flax slowly. Spread in thin layers on teflex sheets in dehydrator. After several hours, flip over and score into large triangles. Finish drying until chips are crispy.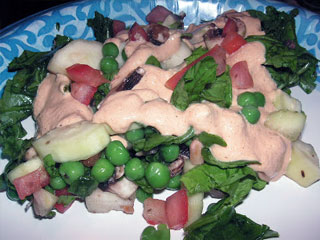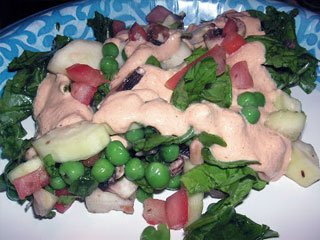 The sauce for this scrumptious Indian Spinach Curry is wonderful. You could use any chopped vegetables you like or clean out your refrigerator and this sauce would save the day! Indian Spinach Curry From "raweater" at rawfoodtalk.com 3 C spinach Chopped zucchini, mushrooms, peas, tomatoes or any other veggies you like 1/2 C water or coconut water 1/2 C macademia nuts 1 tomato 1 clove garlic 1 1/2 tsp ginger (I've tried fresh or dried and they were both good) 1 tsp cumin 1/2 tsp celtic salt 1/2 tsp coriander 1/2 tsp garam masala (this is a wonderfully sweet smelling dried spice, I found it at the health food store) 1/8 tsp dried red chili pepper 1/4 tsp cardamom 1/4 tsp turmeric Place spinach and chopped veggies on serving plates. Put the remainder of ingredients in a food processor or blender and mix until it's a smooth sauce, pulsing a few times to break down the nuts. Spoon sauce over spinach and veggies and enjoy!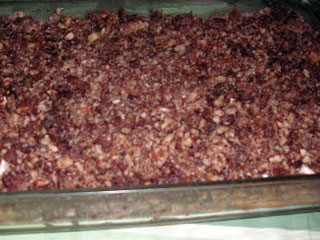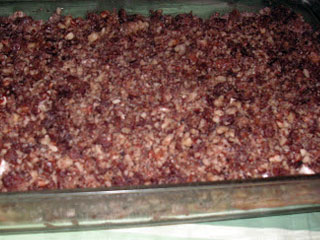 Dessert was a warm apple crisp straight out of the dehydrator. Oh, so awesome!
I got this recipe off a web site a long time ago and I forgot to note who submitted it – sorry!
 If you are trying to make a really great impression of raw food with your family and friends, you should definitely serve this. Simple, delicious and I can't keep it around for long! I'm going to make it into an Apple Crumb Pie for Thanksgiving, mmmm.
5 medium apples
1/2 C raisins soaked in water for 2-4 hours, or overnight in fridge
1/2 tsp ground cinnamon
juice of half a lemon (or 1 small lemon)
2 TB raw honey
1 tsp vanilla
1/2 tsp ground nutmeg
1/2 tsp sea salt
Cobbler Topping Ingredients
:
1 1/2 C pecans, not soaked
3/4 C dates, pitted and not soaked
1/2 tsp sea salt
Peel and chop one of the apples. Place it along with the drained raisins, cinnamon, lemon juice, honey, vanilla, nutmeg and salt in a high speed blender. Puree until completely smooth and creamy. Set aside.
Peel, core and slice very thin remaining apples. Place slices in a large bowl and gently toss with pureed mix. Place in a medium-sized glass or ceramic dish. I used a 9×13 pan.
For the topping, in a food processor pulse the pecans until finely ground then add the dates and continue to grind until evenly mixed. Crumble an even layer of the pecan mixture over the apples.
Place your pan in the dehydrator at 115 degrees for about 4 hours. Serve warm from the dehydrator
It was a yummy night all around and we can't wait to see you on October 18th for our next Raw Friends Potluck Feast when we will have our Halloween Party. I have been searching out some fun and creepy Halloween dishes and treats to give you ideas for making your first holiday of Fall a howling good time!