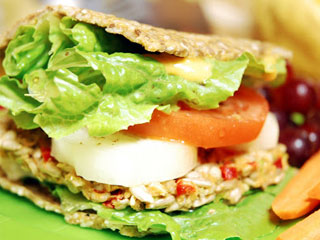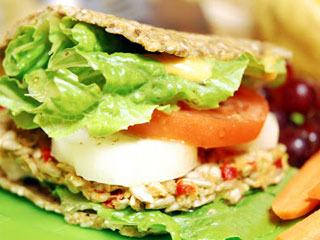 Everyone loves a summer celebration and the focus is usually on the food. Here are some fantastic recipes to help you stay raw while you party! Sun Burgers on Sunflower Bread From Ani's Raw Food Kitchen, by Ani Phyo 2 stalks celery, chopped, about 3/4 cup 1/4 C yellow onion, chopped 1/2 C red bell peppers, chopped 1 tsp sea salt 2 tsp oregano, fresh or dried 1 C sunflower seeds, ground 1/2 C flax seeds, ground 1/2 C water Place celery, onion, bell peppers, salt, oregano, sunflower seeds and flax seeds in a bowl, adding water last. Mix well. Form four balls and flatten into burger patties. Place on mesh dehydrator tray and dehydrate at 105 degrees for 7 hours turning burgers over half way through. Black Sesame Sunflower Bread 1 C ground flax seeds 1/3 C whole flax seeds 1/2 tsp sea salt 1 clove garlic, minced 2 TB yellow onion, chopped 1 1/3 C water 2/3 C sunflower seeds 1/4 C black OR tan sesame seeds Mix ground and whole flax seeds, salt, garlic, onion, and water. Add sunflower and sesame seeds and mix well. Use the back of a spoon to spread batter evenly on one teflex sheet on dehydrator tray. Dry at 105 degrees for 4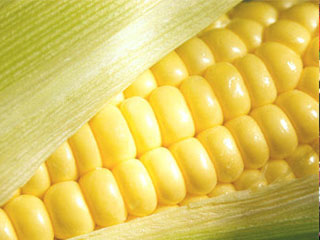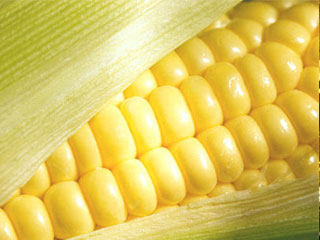 hours. Flip onto mesh sheet and finish dehydrating for another 4 hours or until desired firmness. To serve, dress your sunflower burger with lettuce, tomato, cucumber, sea salt & pepper, raw mustard and catsup.
 Fresh Corn-on-the-Cob Take the husks off fresh corn cobs and wipe off the corn silk. Salt and pepper if you prefer. Bite into a juicy taste treat!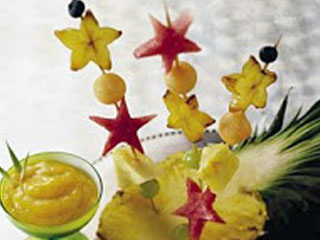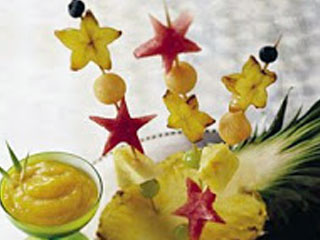 Fruit Kabobs Make a presentation of your fruit by threading them onto bamboo skewars and poking them into a pineapple or flower vase. Use star fruit, blueberries and star-shaped cookie cutters on watermelon slices to get a patriotic look. Or cut flower shapes for a summer bouquet of fruit. Get creative and take your fruit from simple to spectacular! Cucumber-Dill Salad From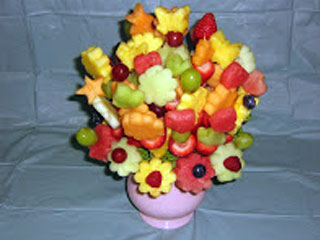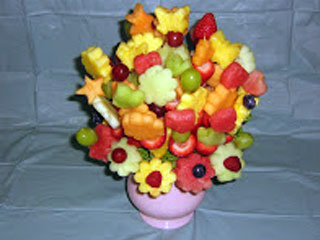 RAWvolution by Matt Amsden 5 cucumbers, peeled and thinly sliced 1 red onion, diced 2 bunches fresh dill, stems removed and leaves chopped In a large mixing bowl, combine all of the salad ingredients and toss to mix thoroughly. Dressing: 1/2 C raw apple cider vinegar 1/2 C cold pressed olive oil 1/2 C fresh lemon juice 1 TB sea salt 5 cloves garlic, peeled (less if you prefer) In a high-speed blender combine the dressing ingredietns and blend until smooth. Pour the dressing over the salad, mix well, and serve.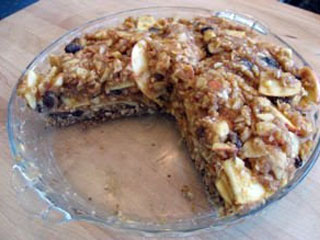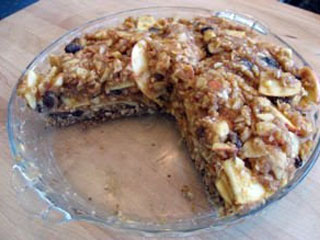 All-American Apple Pie From Living on Live Food by Alissa Cohen Crust: 2 C sunflower seeds 1 C raisins, soaked 1/2 apple Blend crust ingredients in a food processor and form into a pie pan. Filling: 7 apples 8 dates, pitted and soaked 1/2 C currants or raisins 1/2 lemon, juiced 1 tsp cinnamon In a food processor, blend 2 apples with the dates until smooth. Pour into a bowl and set aside. In food processor, pulse chop 4 apples into tiny pieces. Remove from food processor and place in bowl with the dates. (You can slice the apples instead if you like a more traditional looking pie). To the date mixture, add the cinnamon, lemon, and currants and mix well. Pour filling into pie curst and let stand for at least an hour.   Banana Papaya Ice Cream (See recipe on "My Favorite Recipes" post)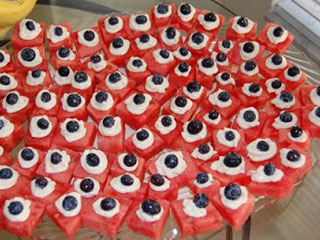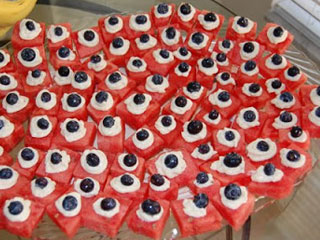 Watermelon Mini Delights From Rawleen on the recipes at goneraw.com 1 Watermelon, cut into squares 2 C cashews, soaked to two hours 1 C Agave Vanilla, to taste Water, to taste Blueberries Place watermelon cubes on a serving platter. Put cashews, agave, and vanilla in food processor and process. Add water slowly, little by little to achieve a smooth frosting-like consistency. Place in a zip-lock bag and cut a small section off the bottom corner. Use this as your frosting instrument. Squeeze frosting on each watermelon, then top with a blueberry! You can also include little flags on each one for decoration.