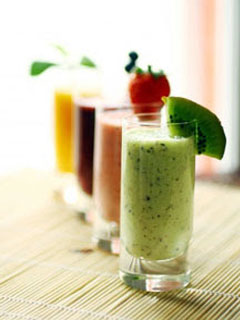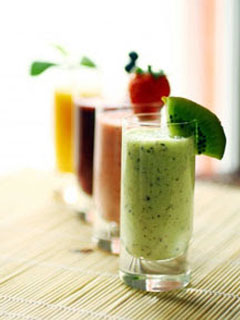 Luscious Green Smoothie 1 apple, cored 1 orange, peeled 2 bananas 1 stalk celery Handful of spinach leaves Place about 1 ½ – 2 C water in high speed blender. Add the rest of the ingredients a couple at a time, mixing between. Blend until smooth, green and luscious. Pour into a beautiful glass and enjoy the liquid energy coursing through your veins! Green smoothies are most nutritious when eaten immediately, but if you have some left, refrigerate and have it for lunch. Note: Try your own variations. Use whatever fruits you like and add a handful of kale and/or spinach. You'll come up with some delicious favorites and become addicted to how great they make you feel!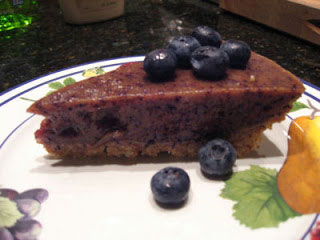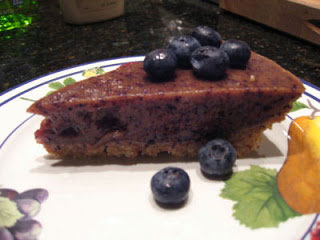 Alissa's Blueberry Pie From "Living on Live Food" by Alissa Cohen 2 C almonds ½ C dates, pitted & soaked for 20 minutes (no time to soak? Add a little water) 6 C blueberries (I use thawed frozen ones – much cheaper) 2 bananas 1 ½ TB honey
Crust: In a food processor grind almonds until fine. Add dates and blend until smooth. Remove and pat into a pie plate.
Filling: In food processor combine 4 C blueberries, 2 bananas and 1 ½ TB honey. Blend until smooth. Remove from processor and stir in 2 C whole blueberries. Pour into crust. Refrigerate at least 3 hours so the filling can firm up. Note: I love this even better without the crust! Just mix up the filling, pour into a bowl and chill until firm for Blueberry Pudding. So Simple! A clever friend of mine made the filling with the berries still frozen and it was a yummy blueberry ice-cream treat right out of the food processor.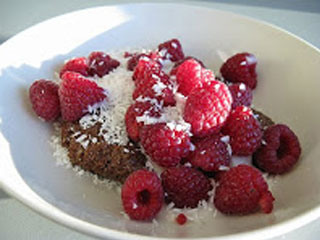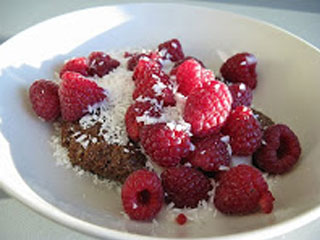 Coconut Breakfast Cakes From "Ani's Raw Food Kitchen" by Ani Phyo Flax seeds are a great source of omega 3, similar to that found in fish such as salmon. Many studies have shown flax seeds lower total cholesterol and LDL cholesterol levels. Flax seed may also help lower blood triglyceride and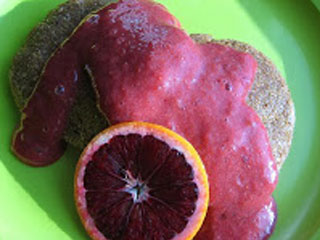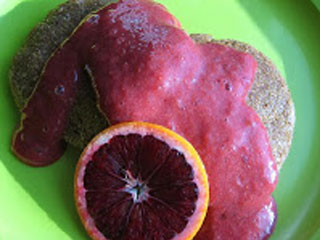 blood pressure and reduce the chance of a heart attack. Flax seed is rich in fiber and the antioxidant lignan, known to fight disease and prevent cancer, especially breast cancer. Flax is also very good for relief from arthritis. 3 C flax seed meal (ground flax seeds) 2 TB liquid coconut oil ½ C agave ½ tsp sea salt ¼ C water Put flax meal, coconut oil, agave, salt and water in a large bowl and mix well. Form 8 balls and flatten into a "pancake" shape, about ¼ to ½ inch thick. Place on a plate separated by parchment paper and chill in the refrigerator. Cover extras with saran wrap or place in a zip lock bag. To serve, top with sliced fruit like bananas and strawberries and drizzle with raw honey.
Orange Cucumber Salad Dressing From "Ani's Raw Food Kitchen" by Ani Phyo 1 small cucumber, about 5 inches long, diced ¼ C cashews 1 medium orange, peeled, seeded, and diced 1 TB grated fresh ginger ¼ C extra virgin olive oil 1 clove garlic Juice of 1 lemon, about 2 TB 1 tsp sea salt Place all dressing ingredients in a blender or food processor and blend until smooth. Place in a glass jar in the refrigerator for up to a week.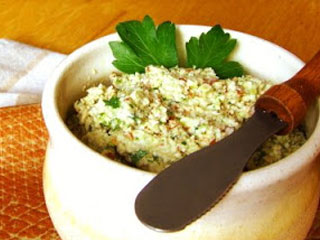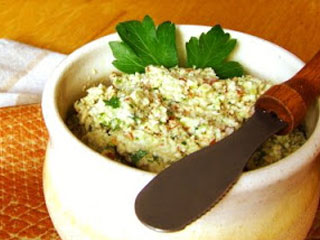 Simple Sunflower Salad Makes approx 2 cups ½ C raw sunflower seeds, soaked 8 hours (just soak them overnight and they're ready in the morning) 1/3 C raw almonds, soaked 8 hours 2 stalks celery, chopped 1 clove garlic 1 TB lemon juice ½ tsp dry dill weed ¼ tsp Herbemare or Spike seasoning 1-2 TB olive oil Place all ingredients in the food processor and chop to desired consistency. You might like it a little chunky or completely smooth. Taste and adjust flavors to your liking. Serve on a bed of romaine lettuce and top with sliced grape tomatoes or use as filling for a lettuce wrap sandwich with cucumber slices. If you prefer a more traditional tuna salad recipe you can fold into the mixture a few tablespoonfuls of homemade vegan mayonnaise.
Vegan Mayonnaise Makes ¾ cup 1/3 C raw almonds, soaked for 8 hours ½ C water Juice of ½ lemon ¾ TB raw honey ½ TB raw apple cider vinegar 1/8 tsp dry mustard ½ tsp sea salt ½ to 2/3 C olive oil Place all ingredients in a heavy duty blender except olive oil. Puree the ingredients until very smooth. With blender still in motion, slowly pour a thin stream of olive oil through the opening in your blender's cover. Continue to puree until you reach the right consistency. Taste and adjust flavors to your liking.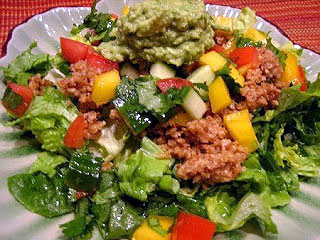 Raw Tacos or Taco Salad I have tried a bunch of different taco meat recipes and this one is by far the best! 1 ½ C raw walnuts 2 cloves garlic 2 TB cumin 1 TB chili powder Sea salt Lime juice Tabasco (optional) Process walnuts, garlic, cumin and chili powder in food processor until desired consistency; leave it a little crumbly like taco meat. Add a sprinkle of sea salt, squirt of lime juice and Tabasco if using and pulse a few times to incorporate. Serve rolled in a large lettuce leaf or on a bed of torn romaine lettuce with chopped tomatoes, raw olives, fresh corn salsa and diced avocado.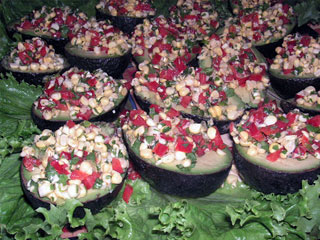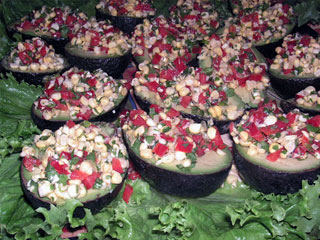 Fresh Corn Salsa 2 ears fresh raw corn, cut off the cob 1/2 Sweet red pepper, chopped ¼ C Cilantro, chopped 1 green onion, chopped Juice of 1/2 lime Sea salt, to taste Jalape no (optional) Combine all ingredients and serve over tacos, or spoon into an avocado half.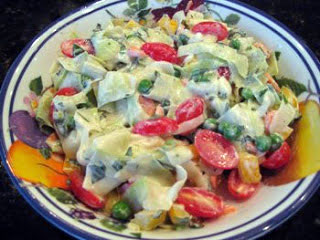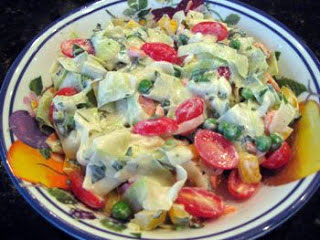 Zucchini Pasta Primavera From the recipes on rawfoodtalk.com Alfredo Sauce: ¾ C water ¼ – 1/3 C lemon juice ½ tsp raw honey ½ tsp sea salt 1 clove garlic 1 ¼ C cashews Put cashews, sea salt and garlic in food processor and mix until finely chopped. Add the rest of the ingredients and process until smooth. 1 zucchini, peeled Cherry tomatoes, halved ¼ C peas, fresh or thawed frozen Fresh basil, shredded ½ of a red pepper, chopped Fresh parsley, chopped 1 green onion, chopped Lemon zest Small carrot, grated Marinated mushrooms (Optional): 1 C sliced mushrooms in a zip-lock bag with 3 TB cold pressed olive oil, 1 TB Nama Shoyu (unpasteurized soy sauce) and 2 TB lemon juice. Seal the bag, swish the contents and let marinate approx 20 minutes. Drain and they're ready to use in whatever dish you want. Make wide noodles out of the zucchini by drawing the vegetable peeler down the sides of the zucchini to create long "ribbons". Keep rotating the zucchini as you peel, until you get to the seeds. Place a handful of noodles onto a plate, top with ¼ cup alfredo sauce and sprinkle the rest of veggies, herbs and lemon zest over the top. Very pretty dish and yummy!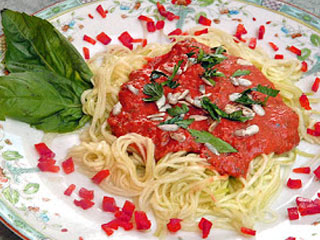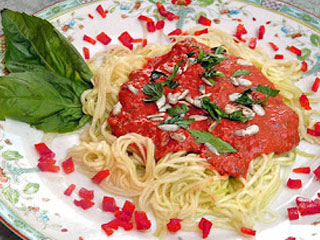 Fresh & Yummy Marinara Sauce 10-12 sundried tomatoes, soaked in warm water 15-30 minutes to soften 1 large fresh tomato 1 large red pepper 1 stalk of celery 1 clove garlic 5 fresh basil leaves Liberal sprinkling of Italian Seasoning herb blend Sea salt and pepper to taste Blend all of the sauce ingredients except sundried tomatoes in a food processor. Add the soaked sundried tomatoes last, a few at a time and blend. This sauce is great over zucchini pasta or on raw pizza!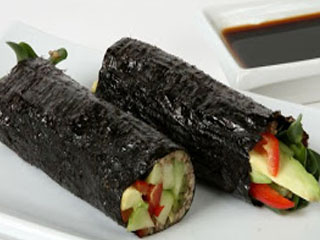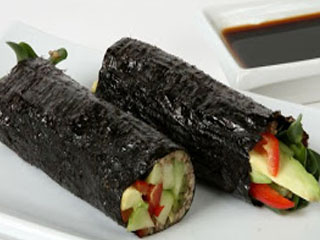 Almond Ginger Nori Rolls From "Ani's Raw Food Kitchen" by Ani Phyo Almond Ginger Pate: 1 TB ginger 1 C almonds, dry 1 clove garlic 1 lemon, juiced ½ tsp sea salt ¼ C water Place almonds in food processor and mix until fine. Add the rest of the ingredients and process until smooth. Nori Rolls: Nori sheets, raw ones are dark purple Avocado, sliced Ginger almond pate Spinach or Romaine lettuce leaves Green onion, julienned Carrot, grated Sea salt Mung bean sprouts Pepper Tomato, sliced into rectangles Herbamare Seasoning Cucumber, julienned Lay out a nori sheet and spread with dry spinach or romaine lettuce leaves on the end closest to you. Top with ¼ C ginger almond pate and any of the other ingredients you like. Roll tightly and serve whole or cut in half so you can see all the pretty fillings. Eat immediately so the nori is still crisp.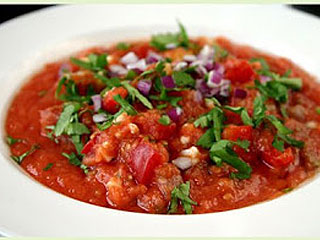 The Best Raw Chili I got this recipe second-hand, but it is from the book "Rainbow Green" by Dr. Gabriel Cousens. 2 carrots 2 stalks celery 1 red bell pepper ¼ – ½ C leek or green onion, cut up small 3-4 cobs raw corn, cut off the cob ¼ C cold pressed olive oil Sea salt Using a food processor to make it quicker, individually chop carrots, celery and red pepper into very small (but not mush) pieces, taking each veggie out before chopping the next and placing them in a large bowl. Add onion, corn, olive oil and salt. Stir together. If you have a dehydrator, place this mixture in at 105 – 110 degrees for an hour. During that time, in the food processor add: ½ C soaked sun dried tomatoes 4 tomatoes 2 avocados 1 TB ginger Sea salt 2 TB chili powder 2 tsp ground cumin Cayenne to taste Mix this with the veggies above and put it back in the dehydrator for one more hour. If you don't have a dehydrator, just mix it all up and enjoy a hearty meal! This makes a lot, share it or freeze some for next week.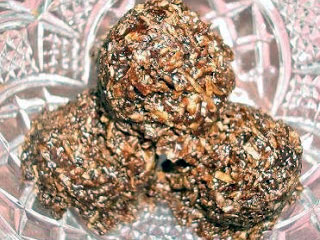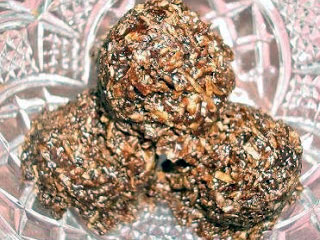 Chocolate Macaroons From "Raw Food Real World" by Matthew Kenney & Sarma Melngallis Makes 24-36 3 C dried, unsweetened coconut 1/3 C coconut butter (also called coconut oil) 1 ½ C raw cacao powder 1 TB vanilla extract 1 C maple syrup (this is not raw) ½ tsp sea salt In a large bowl combine all the ingredients and stir well to combine. Using a small ice-cream scoop, your hands or a tablespoon, spoon rounds of the dough onto a dehydrator screen. Dehydrate at 115 degrees for 12-24 hours until crisp on the outside and nice and chewy on the inside. If you don't have a dehydrator – just refrigerate them and eat them like no-bake cookies, they are delicious!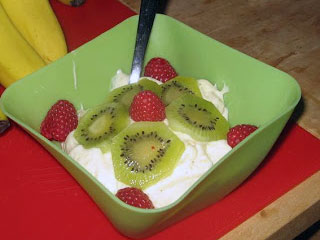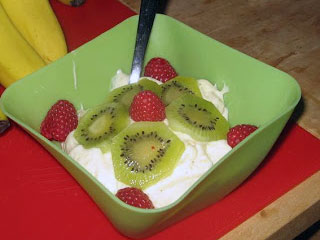 Banana-Papaya Ice Cream From the recipes on rawfoodtalk.com 1 banana, peeled and frozen ½ papaya, seeded, peeled, cut up and frozen (frozen mango is also delicious to use!) Break up the frozen banana and place along with frozen papaya pieces in food processor. Turn it on and hold it down! The frozen chunks can really get the food processor moving around for a minute. When it starts getting mixed together, stop the food processor and scrape the sides down. Process until you see it becoming creamy and holding together (about a minute or two). Done! So creamy, just like soft serve ice cream but completely good for you. If you want, you can top with chopped nuts, coconut and raw cacao nibs. Alternate flavors can be created by using different frozen fruits in place of the papaya, such as strawberries. For chocolate, add raw cacao or carob powder to the mixture when you scrape the sides down, then finish processing.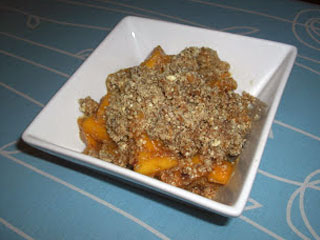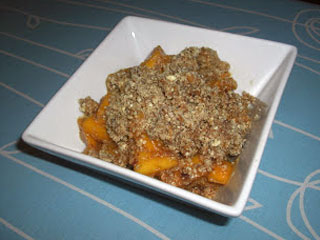 Fresh Mango Cobbler From the book Ani's Raw Food Kitchen by Ani Phyo Make sure to choose perfectly ripe mangoes, and try to get mangoes with less fibrous flesh if possible. Crust: 3 cups pecans, dry 1 vanilla bean or 1 tablespoon alcohol-free vanilla extract ¾ tsp sea salt ¾ cup pitted dates Syrup: ¾ cup pitted dates 3 Tbsp. coconut oil ½ vanilla bean or 1/2 tablespoon alcohol-free vanilla extract ? cup water, as needed Filling: 3 to 4 ripe mangoes, peeled, seeded, and diced (about 6 cups) OR pineapple If using the vanilla bean for the crust, slice open the bean and scrape out the s eeds. Process the pecans, vanilla seeds (or vanilla extract), and salt into a powder in your food processor. Add the first 3/4 cup dates and process until mixed well. Sprinkle half of the crust onto the bottom of a pie dish and set aside. (Don't bother rinsing out your food processor after making the crust; the leftover crumbs will add in with the syrup ingredients.) If using the 1/2 vanilla bean for the syrup, scrape the seeds out. Process the second 3/4 cup dates with the oil, vanilla seeds (or vanilla extract), and water as needed to make a thick syrup. Set aside. To make the filling, place the sliced mango into a large mixing bowl. Toss with the syrup. Spoon onto the cobbler crust. To serve, top with the remaining half of the crust. Note: This dish will keep for two days in the fridge but is best eaten right away while the crust is fresh and crumbly. After it is covered in the fridge the moisture makes the crust squishy.
Rawlmond Joy Candy From the recipes on rawfoodtalk.com 1 C raisins ½ C shredded coconut 1 TB cacao powder ¼ C coconut oil 1 TB agave Whole almonds Blend the raisins in the food processor. Add oil and coconut, mix. Add cacao and agave and finish mixing. Shape into small bars and add a whole almond on top. You can eat them right away, but they are better if you can wait and refrigerate them for 30 minutes or more. Very yummy treat!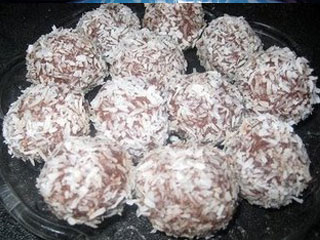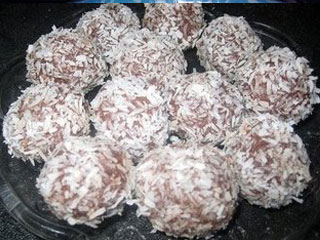 Raw Truffles From the recipes on rawfoodtalk.com ½ C raw pumpkin seeds ½ C raw sunflower seeds ½ C raisins 1 C pitted dates, soaked for 20 minutes ½ C shredded raw coconut (plus more for rolling in) ¼ C cacao nibs Squirt of agave Put pumpkin and sunflower seeds in food processor and mix until chopped. Add the rest of the ingredients and mix thoroughly. Shape into balls and roll in coconut. Chill until firm. Great little energy orbs!