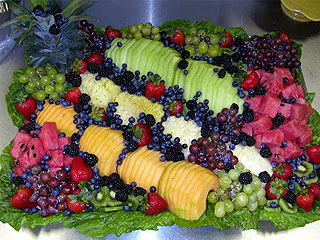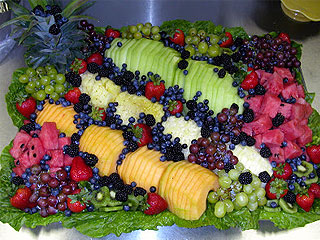 Most people want to know what my DAILY MEALS are like so I'll give you a few ideas.
Breakfast – Green smoothies are the best. Try them! It's a fruit smoothie with a little added spinach, kale, parsley, celery or whatever you like thrown in for tons of nutrition. The fruit/green combinations are endless.
Also, check out the YouTube video demonstration of green smoothies I have put on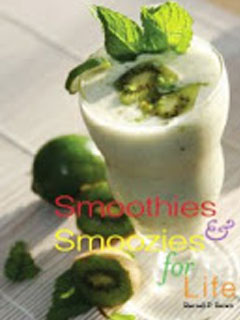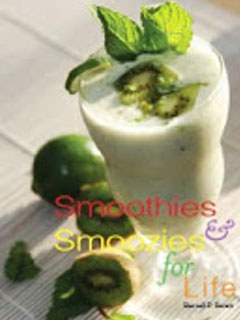 this blog.
For another easy breakfast I will cut up a few fruits for a simple fruit salad like banana, apple, papaya, pineapple. Or, sometimes I want something a little more traditional or special and I will have one of Ani Phyo's coconut pancakes with strawberries and raw honey drizzled over. If I have made one of the delicious raw pies, I'll have a piece of blueberry or banana cream pie – yum!
Lunch – I might have half of the green smoothie I couldn't finish from breakfast (It makes a lot), or a greens and fruits salad. I like to put strawberries, apple slices, grapes or other fruit in my green salad so that I don't really need to use salad dressings. Plus I add raisins, pumpkin seeds, cucumbers, tomatoes, grated carrot, avocado, bell peppers, sprouts, mint leaves, green onion… just whatever I have on hand. There are lots of great raw salad dressing recipes, too. I have also discovered a great "tuna" salad recipe I call Sunflower Salad that I love to roll into a lettuce wrap or put on a salad.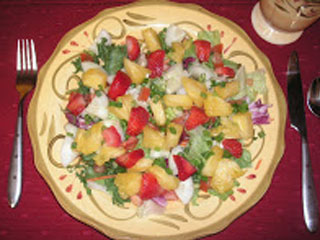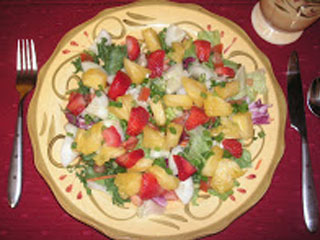 Dinner
– I like to try new recipes if I have time, but on nights where it has to be quick I will have green/fruit salad or veggie sandwich with tomatoes, cucumber, sprouts, spinach, red bell pepper and mustard sauce wrapped in big lettuce leaves or on dehydrated bread. I also love ants-on-a-log with celery and raisins using raw almond butter (sadly, peanuts aren't raw). Some of my other favorite recipes are: tacos or taco salad made with ground seasoned walnut meat topped with fresh salsa, zucchini pasta primavera, veggie nori rolls, Thai spring rolls w/ "peanut" sauce and fresh veggie chili.
Snacks – Trail mix made with raw nuts (almonds, cashews, macadamia, and pecans), pumpkin seeds, raisins, goji berries, dried banana slices and sunflower seeds. Fresh fruit or veggies of any kind. Something great to keep in your purse or desk drawer for a hunger emergency are Lara Bars, which are packaged raw energy bars (I buy at Down to Earth health food store). My favorite flavors are chocolate coconut chew, cinnamon roll, banana cookie, ginger snap and cherry pie.
Treats – My favorites so far are chocolate coconut macaroons (Raw Food Real World by Matthew Kenney & Sarma Melngallis), blueberry pie (Living on Live Food by Alissa Cohen), banana cream pie (an Ann Wigmore recipe in Living on Live Food by Alissa Cohen), rawlmond joy candies (web recipe), banana-papaya ice cream (web recipe), fresh mango cobbler (Ani's Raw Food Kitchen by Ani Phyo), raw truffles (web recipe).
You'll have your own favorites in no time!